It's a buyers market!
Do you want to SELL more properties?
Do you have that client that will ultimately pay you a high commission to sell their home?
~ OR ~
Do you want to make your client happy by selling their home QUICKLY for the price they want AND the commission you deserve?
MAKE YOUR CLIENT's PROPERTY STAND ALONE!
Give your client full service with out spending your full commission on Advertising.
Give your the property its own WEB SITE!
GIVE THEM A DOMAIN NAME
$13.99 per year
Let the name Expire after the property SELLS
~ OR ~
Sell the Domain Name to the Owner at any price so they can use it when they sell the home in the future.
HOST THE DOMAIN
$5.99 per month or less with annual contract
Buy 3 Months of Hosting and renew IF NEEDED
~ ONLY ~
$19.98 Advertising ~ mmmmm Not bad
BUILD THE SITE
Make the Site OUTSTANDING
42laumaewa.com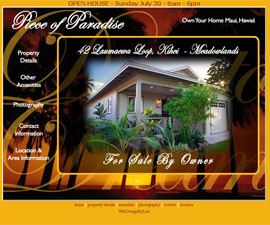 ADVERTIZE on CraigsList.org
Want an Ad that Stands Above the Rest?